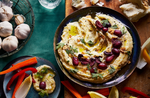 Can you believe that garlic can be so much more than you imagine?
That is why today we are going to travel to the Balkan peninsula and get to know a typical dish from southern Europe: Skordalia, a delicious Greek garlic-based puree!
And why garlic?
Garlic is a superfood composed of allicin, a sulfur compound that gives garlic its powerful flavor. Allicin gives garlic several health benefits. Allicin is a pesticide, antibiotic, antifungal, and antiviral, which means that garlic can suppress the growth of almost any microorganism. But its most reputed benefit is its effect on the circulatory system. This compound reduces blood pressure and prevents platelets from clotting, which means that it thins the blood and destroys blood clots.
You can read more about the super powers of our garlic, its ancient history, and its benefits here. 
Greece, Ooh La La...
Greece is known for its enticing views, pleasant music, and fresh, nutritious food. In fact, the sea-smudged country is home to several blue zones - places where the inhabitants usually live more than 100 years and in good shape.
With this in mind, let's take a look at a very local version of Skordalia cooking. This dish is an excellent garlic-based side dish or mezze , great for invigorating any dish, from boiled beets to salted cod.
Get to work!
This is our recipe for Skordalia:
Preparation time: 10 minutes
Servings: 3-5 (depending on how much garlic you can eat!)
This side dish is completely vegan, and so without further ado, let the bouzouki music carry you away and start cooking!
What will you need to do Skordalia?
5 cloves of garlic
1 shot of white wine vinegar or fresh lemon juice
3 slices of dry bread or 1 cup of nuts
Olive oil
Salt and pepper
Now what?
Method of Preparation:
Soak 3 pieces of bread in a bowl of water.
Peel 5 cloves of garlic and crush them with a mortar and pestle. If you don't have these utensils, a blender will be a great substitute.
Add the wet bread to the garlic and mix them together.
For a lighter version of the dish, you can use a cupful of nuts instead of bread, and for a richer one swap the bread for 1 baked potato.
Add half a cup of olive oil and season the puree with salt and pepper.
Finally, add a shot of white wine vinegar or lemon juice and mix everything once more until it reaches a porridge consistency.
And voilà! You just made skordalia!
Just add a little olive oil on top and eat with the closest piece of food your hunger can grab.
Bon appétit, or as they say in Greece: kali oreksi (καλή όρεξη)!
---
← Oldest Publication Latest Publication →