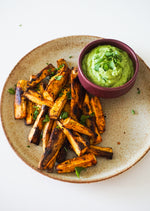 Sweet potatoes can be very versatile and when cooked correctly they become extremely tasty! For this reason we bring you sweet potato sticks!
Our potatoes are (im)perfect, because they don't fit the market's standards. Our baskets are intended to help our suppliers, and bring these magical roots home to you!
Today we bring you a recipe for sweet potato sticks with avocado cream sauce. You can read and watch the preparation of this recipe on video!
And why are they considered superfoods?
Sweet potatoes have a number of health benefits that set them apart from other starchy vegetables.
This superfood is a great source of antioxidants. These substances are important for neutralizing the free radicals that lead to cognitive decline and memory loss. When digested, the antioxidants are transformed into vitamin A, which plays a crucial role in improving night vision, keeping cell growth healthy, and immune system functions regulated.
In fact, one baked sweet potato contains more than the recommended daily dose of vitamin A, along with a good amount of vitamins C and B6.
You can read more about the superpowers of our sweet potato, the history of its cultivation, and its supply to Equal Food here.
The sweet potato sticks!
Did you get our sweet potatoes on your basket from Equal Food and don't know what to do with them? There are many ways to use them: you can bake them, fry them, puree them, make them into jam, bread or cake! But today we give you a delicious suggestion: Sweet Potato Sticks with Creamy Avocado Sauce, a healthy and delicious option.
This recipe is great to accompany your dishes, or to share with your friends as a snack! In addition to making use of sweet potatoes, you can use our avocados and add a creamier touch to your meals. 
Let's go!
This is our recipe for Sweet Potato Sticks in partnership with @anasofia_rosado:
Ingredients:
1 large or 3 small sweet potatoes
1 csp olive oil
Salt to taste
1 teaspoon sweet bell pepper
Spices to choose from
For the avocado sauce:
1/2 avocado
1 handful of cashews (soaked) 
1 garlic
2 csp of olive oil
Juice of 1/2 lemon
1 bunch of parsley
Salt and pepper to taste
Method of preparation:
- Soak the cashews in hot water for 20 minutes. Discard the water and reserve.
- Cut the potatoes into sticks, season with olive oil, salt, and spices. Mix well and place in the oven on a baking tray lined with baking paper. Let it cook at 200° for 15min.
- For the sauce add the cashews, avocado, lemon juice, olive oil, garlic, parsley, and season with salt and pepper.
- Blend everything with a hand blender until very creamy (you can add a little water if you need it).
- Serve the sweet potato sticks with the green sauce and enjoy!
Et voilá, you are looking at a delicious and crispy snack! Bon appetit!
---
← Oldest Publication Latest Publication →