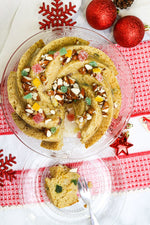 With Christmas just around the corner we leave you with @cate_sweet_lab's suggestion of a recipe full of colors and Christmas flavors, the orange cake, to share with your families in this special time of the year. 🎄
At the end we also leave you two tips for flavor substitutions, but which also ensure the typical Christmas flavor of this season. 🤤
For a better elaboration of the orange cake you can find the video of our recipe on our Instagram!
Ingredients for making the orange cake:
2 + ½ cup yeast flour
1 tablespoon ground flaxseed
1 of our large oranges (juice and zest)
2 cups soy beverage
2 tablespoons of olive oil
1 tablespoon apple cider vinegar
2 tablespoons of yeast
1 tablespoon cinnamon
2 tablespoons brown sugar
150 grams of candied fruit (wrapped in flour)
For the frosting:
1 cup powdered sugar
1 tablespoon of juice from our oranges
For the almonds:
1 cup of our almonds with skin
2 tablespoons agave syrup
1 pinch of cinnamon
Preparation of the orange cake:
1. Cake
Mix all the dry ingredients, except the yeast, plus the orange zest and stir.
Add the orange juice and vegetable drink. Stir. Follow by the oil and vinegar. Stir until incorporated into the mixture. Add the yeast and, finally, the candied fruits (the fruits should be wrapped in a little flour so that they don't all stick to the bottom of the mold when the cake is baked).
Pour into a non-stick pan brushed with coconut oil or other fat of your choice.
Bake for about 30/40 min at 180 degrees. Keep checking and doing the toothpick test to see if it is cooked.
Note: The time may vary from oven to oven.
2. The frosting
Mix the two ingredients and let stand for about 5 min for the sugar to dissolve, place the topping when the cake is already cold.
3. The almonds
Place the almonds in a pan and lightly toast. Add the agave syrup and a pinch of cinnamon, leave for another minute and remove. Place on a baking sheet to make it easier to remove. You can place them whole on top of the cake or cut them coarsely.
Substitutions:
For those who don't like crystallized fruits you can substitute them for raisins (also involve them in flour like the crystallized fruits)
 For those who want a cooler, moister cake you can use fresh apples from @equalfood cut into small cubes.
Notes:
As the orange cake takes the icing and candied fruits, the cake batter takes little sugar, if you don't use the icing increase the sugar in the cake batter to about ¼ cup.
If you go for the fresh apple option you can increase the sugar to about ¼ cup or ¼ if you don't use the icing.
This orange cake was baked in a 19 cm diameter Bundt pan.
We hope you enjoy and that this sweet treat will be part of your Christmas table! 🥰
---
← Oldest Publication Latest Publication →