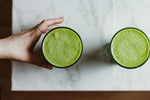 Today we are going to share some amazing healthy recipes that you can include in your daily routine. It doesn't matter if you are vegetarian, vegan or not, if you have dietary restrictions or simply want to eat more nutritious food.
We have options for everyone. From quick and easy meals to elaborate dishes, these healthy recipes have been carefully selected to offer a variety of flavors and nutrients.
Grab your pen and paper and write down the healthy recipes you'd like to try. Let's get started!
Our healthy recipes:
Lasagna is one of those dishes that never fails and we can vary a lot in combinations. Today we bring you a recipe from @myfeedchoices. We replaced the white sauce with a pumpkin and cauliflower sauce, it's super creamy and replaces very well the traditional white sauce. For the filling we used mushrooms, white beans and spinach, but you can use whatever filling you prefer. We usually prefer fresh pasta to make lasagna, but you can also use dried pasta if you prefer.
Preparation time: 45 minutes
Serves 4 people.
Vegetarian or vegan: Vegan
Ingredients:
For the sauce
655g butter pumpkin (1 butternut squash) 
390g cauliflower (1 small cauliflower) 
500ml water 
3 sage leaves 
1 dash of olive oil - Salt to taste
For the filling
300g fresh spinach 
1 purple onion, chopped 
2 cloves of garlic, minced 
300g chopped mushrooms 
1 grated carrot 
490g cooked white beans 
Salt, olive oil, black pepper 
6 lasagna sheets (I used fresh)
Method of Preparation:
Sauce
Put a dash of olive oil in the bottom of a pan and start by toasting the sage leaves. 
Add the pumpkin and cauliflower, season with salt and pepper, and let it roast lightly.
Cover with the water and let it cook until the squash and cauliflower are cooked.
Remove the sage and grind it all with a hand blender.
Filling
Start by sauteing the red onion and garlic in a little olive oil and season with salt and black pepper.
Add the carrot and mushrooms, then the spinach and beans. 
In an oven tray place a base of pumpkin sauce, a layer of pasta and then the filling and repeat the process ending with a layer of sauce.
Bake in a preheated oven at 180°C for about 20 minutes. 
Voila! A delicious lasagna. You can follow all the steps via @myfeedchoices reels here. 
If you're a fan of quick, convenient meals made in under 15 mins then you need to add this lentil shakshuka to your list. Made with ingredients that are easy to find in your pantry or fridge and only dirty a single pot, this is my meal of choice from @healthyibesbyvero on busy days! 
Ingredients:
3-4 cloves of garlic
1/2 teaspoon cumin powder
1 teaspoon oregano
1/2 teaspoon demerara sugar (or other sugar of your choice)
2-3 whole round tomatoes
1 cup tomato pulp
2 cups cooked lentils (canned, but well drained)
Salt and pepper to taste
4 eggs 
Chopped parsley
Slices of bread to go with it
Method:
1. Sauté the garlic in olive oil for 1 min. and add the tomatoes cut into pieces.
2. Add the cumin, oregano, sugar and lentils.
3. Saute for a few minutes until the tomatoes begin to fall apart.
4. Add the tomato pulp and let it cook for a few more minutes.
5. With the help of a spatula, make 4 small holes to pour the eggs one by one.
6. Cover with the lid for a few minutes or until the eggs are cooked to your liking.
7. Finally, rectify the salt and pepper, add the chopped parsley, and a nice slice of toasted bread to start the tasting. Bon appetit!
Voila! A delicious lasagna. You can follow all the steps through @healthyvibesbyvero's reels here.
Green smoothies are a great way to include vegetables in your diet in a delicious and easy way. In addition, they are rich in nutrients and antioxidants, and help detoxify the body. The @danielafoneves smoothie is perfect for those who want to start the day with an extra dose of energy and nutrients.
Serves: 3 cups
Vegan/Vegetarian: Yes
Ingredients:
1 kiwi
2 apples
1 piece of fresh ginger to taste
1 avocado
1 glass of water
2 handfuls of spinach
Preparation: Put all the chopped ingredients into the blender! It doesn't get simpler than this!
Tips:
If you prefer juice rather than smoothie, just add more water until it is at your favorite consistency!
If you don't consume it all on the spot, it is normal that the pulp separates from the water, just mix it all again (with a cutlery wheel) and it's perfect! 
You can follow all the steps through @danielafoneves' reels here.
If one of your goals this year is to prepare more healthy recipes in which plants are the protagonists, then you will love this roasted cabbage recipe, because it is delicious, very easy to make and practical. This is our recipe in conjunction with @healthyvibesbyvero.
Ingredients:
1 head of Savoy cabbage
1 can of crushed tomatoes
1 shallot or 1/2 white onion, chopped
3 cloves of garlic, minced
1 teaspoon oregano
2 handfuls of fresh spinach (can be frozen too)
50g feta cheese (or other cheese of your choice)
Fresh parsley to finish
Seasoning sauce for the cabbage:
Olive oil, garlic powder, paprika, oregano, salt and black pepper to taste.
Method:
1. wash and cut the cabbage in half and then into half-moons, keeping the stalk intact to help keep the cabbage slices in shape.
2. Distribute the cabbage on a baking tray and brush it with the seasoning sauce.
3. Bake the cabbage in a preheated oven at 170 degrees for about 30 minutes. Turn it over at 15 minutes so that it bakes evenly.
4. Meanwhile, in a pan, saute the onion and garlic, add the oregano, the crushed tomatoes and, in the last 3-4 minutes, add the fresh spinach.
5. Transfer the sauce to a serving dish, distribute the cabbage on top, add the cheese, and bake in the oven for another 5 minutes (broiler function) to get the cheese more incorporated into the sauce.
6. Finally, add the chopped parsley and it is ready to serve.
You can follow all the steps of making this delicious recipe here.
We hope you try and enjoy our healthy recipes!
---