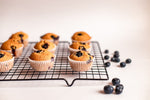 Our blueberries are our highest antioxidant capacity product, our antioxidant kings!
Our blueberries are (im)perfect, because they do not fit into the demanding levels of the market, which is governed by standards of beauty that are too strict and do not allow them to be sold to traditional markets. Our baskets are meant to help our suppliers, and bring these magical berries home to you!
And why are they considered superfoods?
These fruits enable our body to fight against diseases such as diabetes, cancer or cardiovascular problems. Besides having a chemical substance that is important for burning saturated fats, resveratrol, they are also low in calories and have a high nutritional value.
They are rich in vitamins B and C, and in manganese. This superfood is high in iron, potassium, calcium, magnesium, phosphorus, sodium, zinc, copper, and folic acid. Rich in fiber, they have enviable anti-inflammatory superpowers. They fight bad cholesterol (LDL) and protect good cholesterol (HDL). Their antioxidant properties allow a reduction in LDL oxidation levels, helping to keep our hearts healthy. Heart disease prevention is also possibly ensured with the consumption of blueberries, as these magical berries help lower blood pressure!
You can read more about the superpowers of our blueberries, their integration into Portuguese farming culture, and about their supply to Equal Food here.
Our Blueberry Muffins!
Did you receive our delicious blueberries from the Equal Food baskets and you don't know what to do with them? There are several ways to use them: natural (just wash them), with yogurt, to go with waffles or pancakes, but today we give you a delicious suggestion: Blueberry Muffins! Besides being very tasty, they are super nutritious and healthy. Take this opportunity to stimulate your palate, in a healthy way, and delight your family and friends!
Want to know how?
This is our recipe for Blueberry Muffins:
Preparation time: 35 minutes (you can enjoy cooking to the sound of your favorite new album or the new episode of that podcast you like so much!)
Serves 12: 12 blueberry muffins
Vegetarian or vegan? These muffins contain eggs, which you can also find in our baskets. If you want to go for a vegetarian or vegan version, the butter can be replaced with olive oil in the same quantity, or vegan butter. This substitution may change the taste of the blueberry muffins a bit, but we assure you that following the other steps will keep them tasty!
What will you need to make the Blueberry Muffins?
Ingredients:
2 cups Equal Food blueberries
75g brown sugar
75g softened butter
2 eggs BIO Equal Food
75g of protein yogurt (vegetable or not, choose a sugar-free Greek style)
50g almond vegetable drink
1 teaspoon Equal Food lemon juice
175g whole oat flour
175g wheat flour
1 teaspoon baking powder
½ teaspoon baking soda

Now what?
Method of Preparation:
1. Beat the sugar with the butter.
2. Add the eggs, one by one, stirring well between each addition.
3. Add the yogurt and stir again.
4. Then add the vegetable drink and lemon juice, stirring very well.
5. Separately add the flours, baking powder, and baking soda.
6. Add the liquid mixture to the flours and mix everything very well.
7. Finally, wrap the blueberries.
8. Bake in a preheated oven at 180º for 20 minutes.
9. Enjoy!
This is a great and quick way to enjoy your Equal Food blueberries in a nutritious and tasty way! With the amount we deliver to your home you'll still have blueberries left over to enjoy in ways other than blueberry muffins.
If you haven't tried our blueberries yet, and would like to be a superhero yourself, this is your chance! Take a look at our baskets offer here and take this opportunity to save 44% over market prices.